The RM 248 T is the perfect choice for mowing lawns up to 1,200m², with the one-speed drive making it incredibly easy to mow up steep slopes and inclines.
The ReadyStart technology is another great feature too, as it makes the STIHL EVC 200 engine simple to start even when it's cold.
The high-lift blade is also cleverly designed to give you the neatest possible finish on your lawn by creating a strong air current around the mower's deck. This airflow lifts the grass upright, then cuts it and efficiently carries it into the 55 litre grass catcher box.
This mower has a 46 cm cutting width and it features foldable handlebars so it can be compactly stored in the shed or garage. The spring-loaded central cutting-height adjustment means you can adjust the height of the cut from 25 to 75 mm in a flash.
All of these useful features to combine to give you a great petrol-powered lawn mower for your garden.
Ideal for lawns up to 1,200m²
Features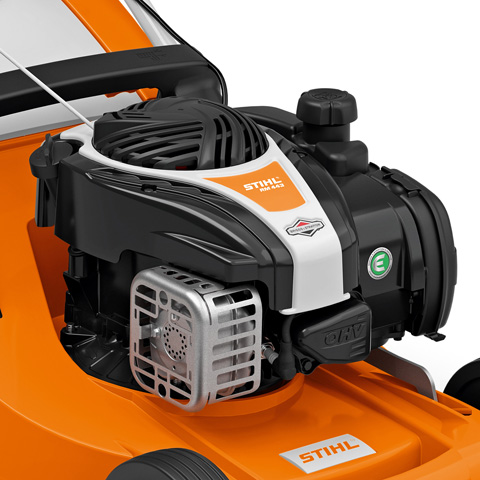 ReadyStart engine technology
The ReadyStart engine technology means that your lawn mower can be easily started with less effort whether the engine is warm or cold.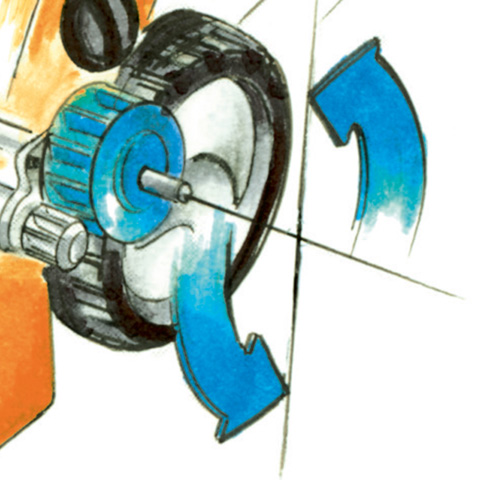 One-speed drive
The RM 248 T has one-speed drive, which makes it so easy to push around larger lawns and up slopes in your garden.
High-lift blade
The blade on the lawn mower is designed to lift the grass and make it stand upright, before cutting it precisely and moving it straight into the catcher box. This gives you the neatest possible finish on your lawn.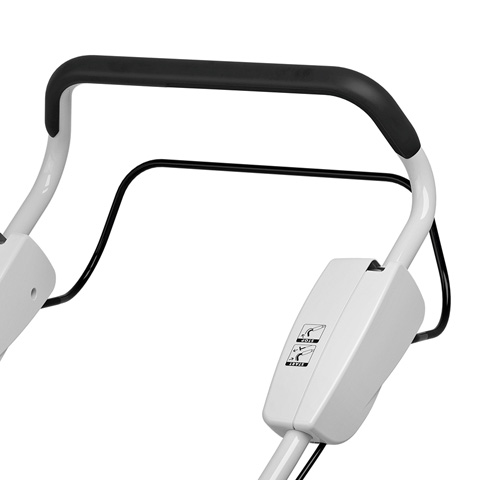 Super soft grip
The handlebar has a super soft grip so that it's always comfortable to hold even when mowing for longer periods.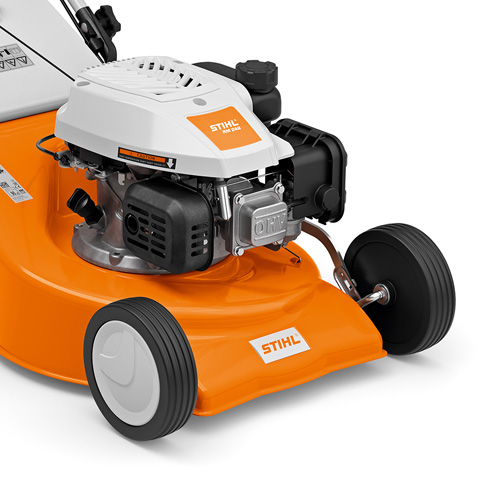 Sheet steel deck
The sheet steel deck is sturdy, robust and built to last.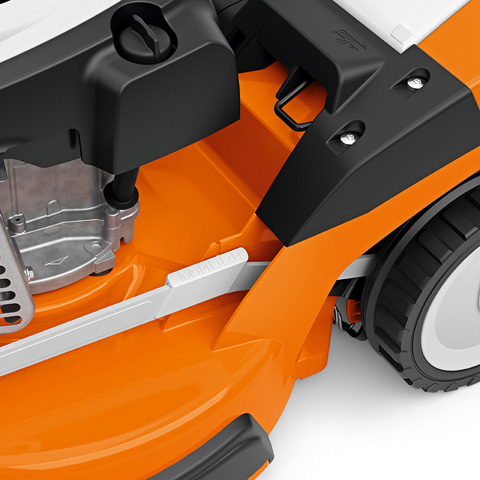 Central cutting-height adjustment
It's so quick to adjust the cutting height of the mower, thanks to the spring loaded adjustment mechanism. There are five different levels to choose from between 25 and 75mm, so you can mow the lawn at the perfect height for you.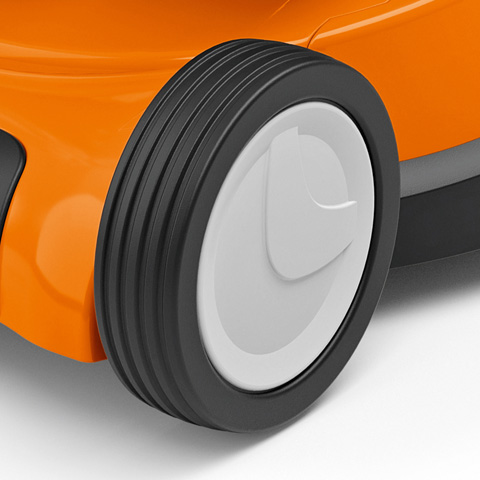 Smooth-running wheels
The wheels on the RM 248 have a traction pattern that makes it easy for you to manoeuvre the mower, and helps you hold a perfectly straight line when mowing. The wheels are extremely hard-wearing too.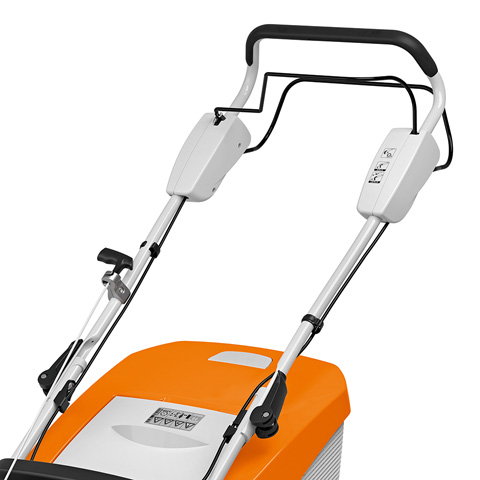 Foldable handlebar
The handlebar can be folded right over for space-saving storage or transport.
FAQs
Q
What size garden will it maintain?
The RM 248 T lawn mower is ideal for lawns up to 1,200m²
Q
What should I wear when using this mower?
We recommend that you wear sturdy boots or shoes, ear defenders and snug-fitting clothes.
Q
How big is the grass catcher box?
The RM 248 T has a 55 litre grass catcher box.
Q
Will the blade need sharpening?
Keeping the blade sharp will give you a precise finish on your lawn. If you notice that the tips of the grass look torn after mowing and the cut isn't as neat, the blade may need sharpening. Our approved STIHL dealers can do this for you - find your nearest dealer
Q
What is the cutting width of the RM 248 T?
The RM 248 T has a cutting width of 46cm.
Q
Can I use this lawn mower on wet grass?
Yes, you can - STIHL lawn mowers are designed to deliver a great cut even when it's been raining, thanks to the airflow generated by the blade, the shape of the deck and the vents in the grass catcher box.
Tips
#1
Cleaning your RM 248 T
When you have finished using the mower, remove the battery and clean using a damp cloth or soft brush. Always wear gloves and tie back long wear when cleaning or maintaining your mower.
#2
Storing your RM 248 T
Store your RM 248 in a clean and dry area away from children at all times. Don't forget you can fold the handle over and put the grass box on top so it takes up less space.
#3
Check for wildlife
Don't forget to check your work area for wildlife before starting to use your tool. In particular, you should check for nesting birds before trimming hedges, as well as checking for other small animals such as hedgehogs before trimming long grass.
Technical Specifications
| Technical data | Value |
| --- | --- |
| Uncertainty factor K m/s² | 1.4 |
| Guaranteed sound power level LWAd [dB(A)] dB(A) | 94 |
| Uncertainty factor KpA [dB(A)] dB(A) | 2 |
| Vibration value ahw m/s² | 2.8 |
| Lawns m² | up to 1.200 |
| Weight kg | 28 |
| Cutting width cm | 46 |
| Displacement cm³ | 139 |
| Working speed rpm | 2.800 |
| Cutting height mm | 25-75 |
| Nominal output | 2.1 kW / 2.8 PS |
| Grass catcher box l | 55 |
| Engine type | EVC 200.2 |
1927
Andreas Stihl founds an engineering office in Stuttgart and develops his own chainsaw.
1928
STIHL becomes a brand. The name represents the ceaseless quest of the engineer and company founder Andreas Stihl to ease the heavy labour of forestry work with his inventions.
1930
STIHL presents his portable petrol-powered chainsaw at the Leipzig trade fair – it is well received and orders flow in from across Europe.