The RMA 2 RT is a self-propelled, lightweight cordless mulching mower, with a sturdy steel deck and foldable handlebars.
Mulching your lawn is a great option if you want lush, green grass - the specially designed mulching blade on the RMA 2 RT shreds the grass into fine particles that are then dropped back into the lawn to act as a natural and nutrient rich fertiliser, which improves your lawn. For more information, take a look at our blog about the benefits of mulching. 
The super-soft grip handlebar is comfortable to use, whilst the quick release clamps make it quick and simple to fold over for compact storage.
The RMA 2 RT also features eco mode. Just turn it on and the mower will adjust the blade speed depending on the type of grass you are cutting - faster for thicker, dense grass and slower on more ornamental lawns to conserve the battery.
The RMA 2 RT is part of our PRO Cordless range of tools and uses the AP-series interchangeable batteries - it is not compatible with the AK-series batteries in the COMPACT Cordless System.
Area covered with recommended AP 300 battery: Up to 500m²
Area covered with AP 200 battery: Up to 420m²
Area covered with AP 100 battery: Up to 240m²
Features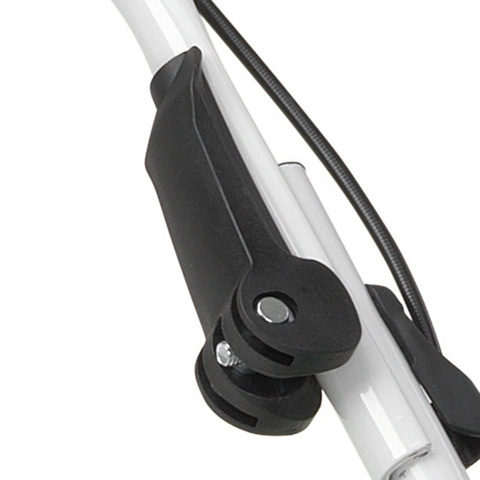 QuickFix handlebar clamps
The handlebar can be folded over in seconds without the need for tools with the QuickFix clamps.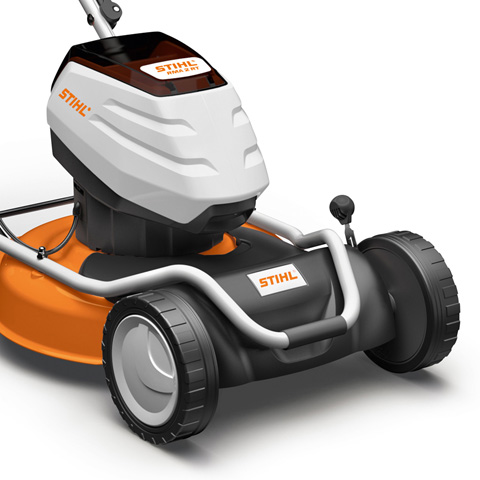 Eco mode
The RMA 2 RT features our clever eco mode which adjusts the mower's blade speed, depending on the type of grass you are cutting, to conserve the battery life.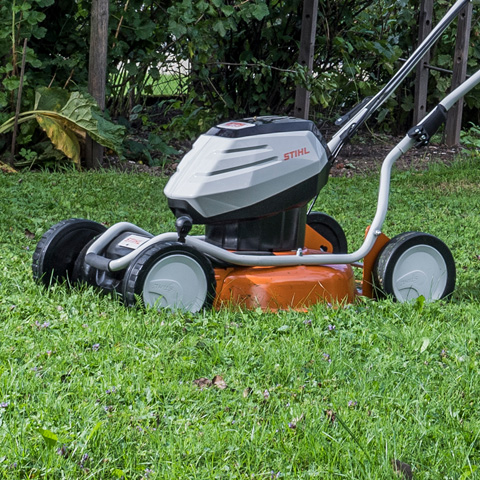 Mulching blade
The dedicated mulching blade on the RMA 2 RT shreds the grass clippings finely and evenly spreads them over the lawn returning nutrients and moiosture to the lawn.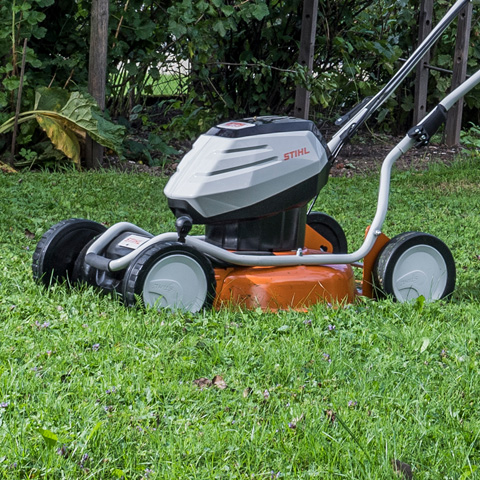 One-speed drive
The one-speed drive takes the effort out of mowin with the RMA 2 RT, propelling the mower forward when in use.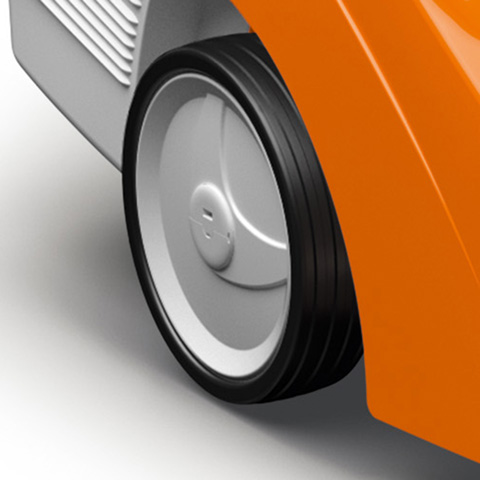 Easy-running wheels
The RMA 2 RT has robust, easy-running wheels that feature traction and tread patterns to help you manoeuvre the lawn mower easily around your garden.
FAQs
Q
What size garden will it maintain?
A: With an AP 300 battery, the RMA 2 RT lawn mower will cut approximately 500m2 of lawn.
Q
How long does it take to charge?
A: To fully charge the recommended AP 300 battery with an AL 101 charger, it takes 250 minutes, but you can charge it up to 80% in 190 minutes. You can also buy our quick chargers if you need to charge your battery quicker.
Q
What battery does it use?
A: The mower is powered by an interchangeable 36V Lithium-Ion battery.
Q
Are the batteries interchangeable?
A: Yes, they are interchangeable with other tools in the Pro Cordless range that use the AP batteries. They are not interchangeable with the AK Cordless System tools.
Q
What should I wear when using this mower?
A: We recommend that you wear sturdy boots or shoes and snug-fitting clothes.
Q
Will the blade need sharpening?
A: Keeping the blade sharp will give you a precise finish on your lawn. If you notice that the tips of the grass look torn after mowing and the cut isn't as neat, the blade may need sharpening. Our approved STIHL dealers can do this for you - find your nearest dealer
Q
What is the cutting width of the RMA 2 RT?
A: It has a cutting width of 46cm.
Q
Can I add a grass catcher box to the RMA 2 RT?
A: No, this mower is a dedicated mulching mower, so you can't add a grass catcher box. You can add mulching kits to the other standard cordless lawn mowers in our range though, so take a look at the other mowers for a different option.
Tips
#1
Cleaning your RMA 2 RT
When you have finished using the mower, remove the battery and clean using a damp cloth or soft brush. Always wear gloves and tie back long wear when cleaning or maintaining your mower.
#2
Storing your RMA 2 RT
Store your RMA 2 RT in a clean and dry area away from children at all times. Don't forget you can fold the handle over for more compact storage.
#3
Looking after your battery
Don't use a damp or wet battery in your RMA 2 RT and avoid using them in extreme temperatures (very hot or very cold). To find out more about looking after your battery, read our blog post.
Technical Specifications
| | |
| --- | --- |
| Power supply | Battery 36 V |
| Cutting width cm | 46 |
| Cutting height mm | 28-85 |
| Product weight kg | 23 |
| Vibration value ahw m/s² | 1.4 |
| Guaranteed sound power level LWAd dB(A) | 90 |
| Measured workplace LpA dB(A) | 76 |
| Machine length cm | 140 |
| Device height cm | 105 |
| Device width cm | 50 |
| Housing material | Steel |
1927
Andreas Stihl founds an engineering office in Stuttgart and develops his own chainsaw.
1928
STIHL becomes a brand. The name represents the ceaseless quest of the engineer and company founder Andreas Stihl to ease the heavy labour of forestry work with his inventions.
1930
STIHL presents his portable petrol-powered chainsaw at the Leipzig trade fair – it is well received and orders flow in from across Europe.