The RMA 339 C is the ideal lawn mower for medium-sized lawns.
It is quiet and manoeuvrable so you can navigate your flower beds, patios and garden furniture with ease, and the central cutting-height adjustment makes it simple to cut your grass to the length you want. The unique mono-handle design is sturdy but versatile - it can adjusted to suit your height, it folds over for easy storage and, best of all, it gives you easy access to the grass catcher box when you need to empty it.
The automatic eco mode and flow-optimised blades maximise the battery life on your RMA 339 C and it is so easy to use too - just pop in the battery, switch it on and get mowing!
Area covered using recommended AK 20 battery: 250m²
Area covered using AK 30 battery: 330m²
Features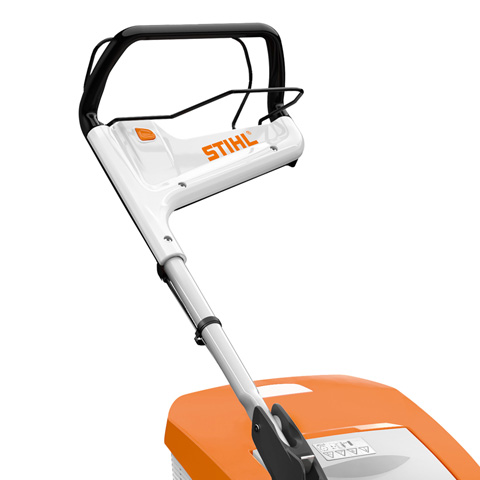 Height-adjustable, mono-handle design
The unique design of the mono-comfort handlebar on the RMA 339 C means that the handle can be simply adjusted to suit your height or folded over completely with one press of the lever. It also gives you clear access to the grass catcher box - there's no need to pass it between the handles, just lift it straight off in one movement.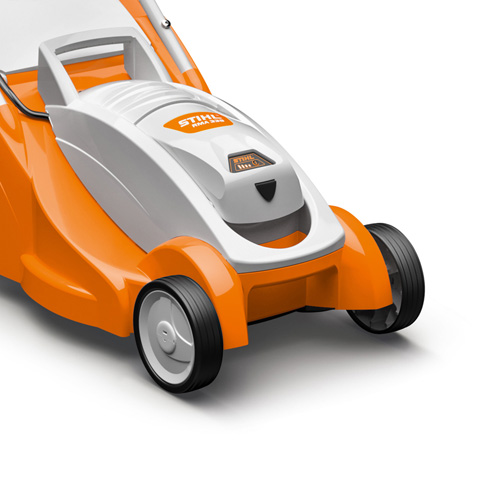 Carrying handles
A carrying handle has been built into the body of the mower to make it easy for you to transport it.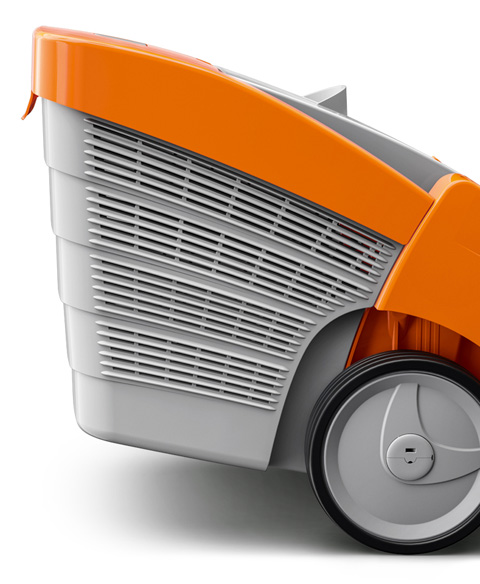 Innovative grass catcher box
The grass catcher box is made of a sturdy plastic, and is easy to empty through the clam-shell opening - simply hold the box over the bin or compost heap using the handles on both sides and pull it open. The box also has vents on all sides that face downward so you won't get covered in dirt and dust when mowing.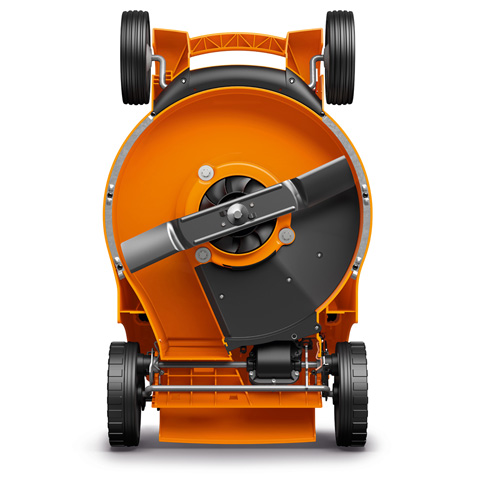 Flow-optimised blades
All STIHL lawn mowers have a flow-optimised blade to lift and neatly cut the grass, without using unnecessary battery power.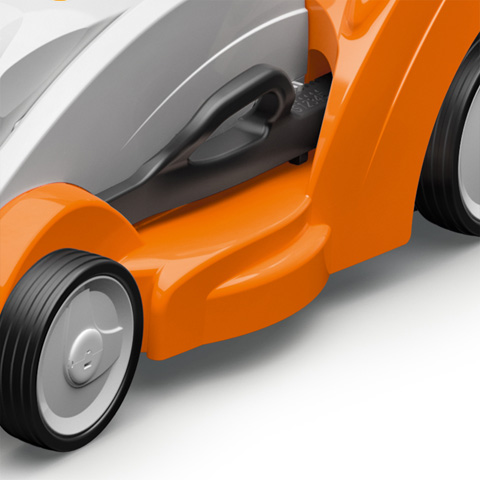 Central cutting height adjustment
It's easy to adjust the cutting height of the mower in one easy movement with the spring loaded lever. There are five different heights to choose from between 20 and 70mm.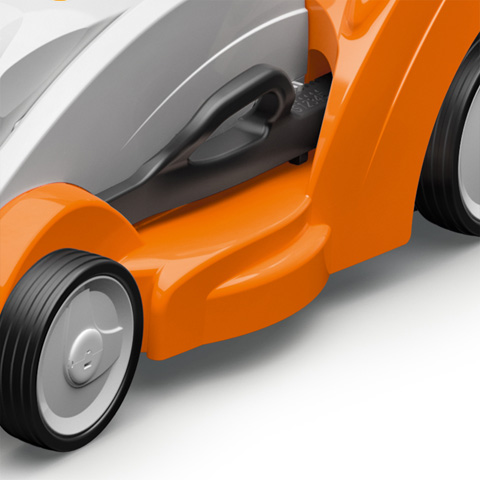 Polymer housing
The housings of the STIHL battery-powered lawn mowers are made of a high-quality polymer material. This extremely lightweight polymer housing combines high resistance and robustness against forces, heat and UV radiation.Easy-running wheels.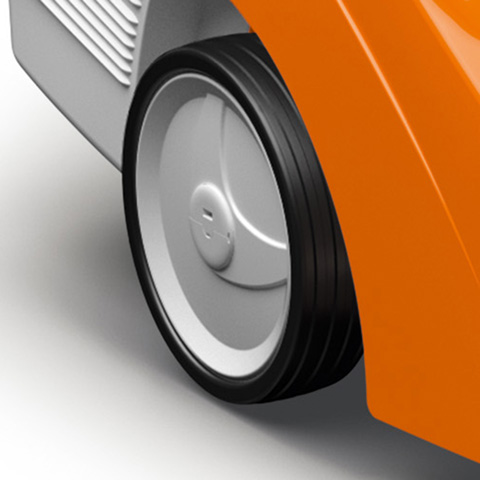 Easy-running wheels
The hard-wearing wheels on the RMA 339 C have traction and tread patterns that are designed to make it easy for you to move the mower around your flower beds, trees and other obstacles in the garden.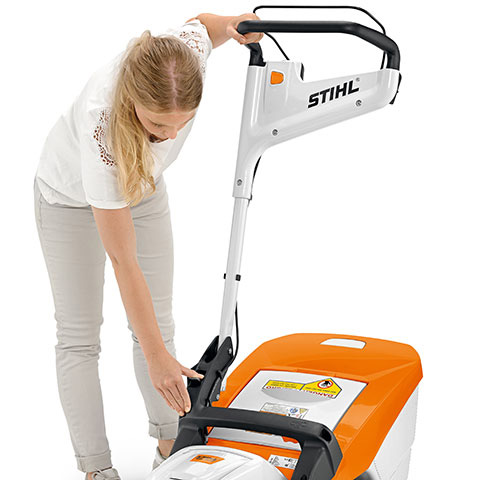 Foldable handlebar
Thanks to its foldable handlebar, the battery-powered lawn mower can be quickly and easily folded. This enables the STIHL lawn mower is be stored very compactly or moved to the next place of useEco mode.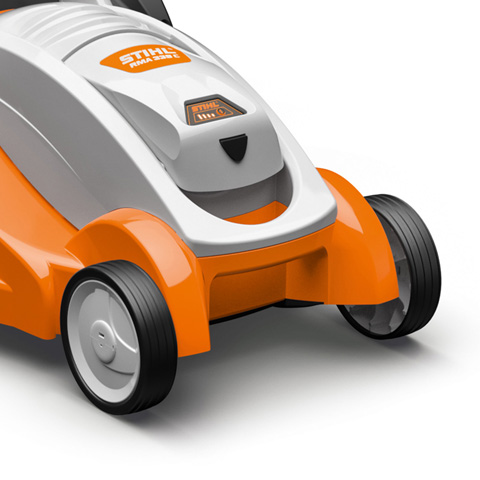 Eco mode
The RMA 339 C has an automatic eco mode which increases or decreases the blade speed, depending on what you are cutting, to make the most of the battery life so you can mow for longer.
Clever design for maximum airflow
The airflow produced by the blades channels the clippings directly into the grass catcher box to make sure it fills right to the top. The grass level indicator on the top of the box then drops down so you know exactly when to empty it.
FAQs
Q
What size garden will it maintain?
With an AK 20 battery, the RMA 339 C lawn mower will cut approximately 250m² of lawn.
Q
How long does it take to charge?
To fully charge an AK 20 battery with an AL 101 charger, it takes 150 minutes, but you can charge it up to 80% in 105 minutes.
Q
What battery does it use?
The mower is powered by an interchangeable 36V Lithium-Ion battery.
Q
Are the batteries interchangeable?
Yes, all of the tools in the AK Cordless System use the same style of battery. There are three different batteries in the range, which all have different capacities. For the RMA 339 C, we recommend the AK 20 battery, but you can also use the higher capacity AK 30 battery in this tool. We don't recommend using the AK 10 as the RMA 339 C won't run for as long with this smaller battery and you will need to charge it more often.
Q
What should I wear when using this mower?
We recommend that you wear sturdy boots or shoes and snug-fitting clothes.
Q
How big is the grass catcher box?
The RMA 339 C has a 40 litre grass catcher box.
Q
What is the cutting width of the RMA 339 C?
It has a cutting width of 37cm.
Tips
#1
Cleaning your RMA 339 C
When you have finished using the mower, remove the battery and clean using a damp cloth or soft brush. Always wear gloves and tie back long wear when cleaning or maintaining your mower.
#2
Storing your RMA 339 C
Store your RMA 339 C in a clean and dry area away from children at all times.
#3
Looking after your battery
Don't use a damp or wet battery in your RMA 339 C and avoid using them in extreme temperatures (very hot or very cold). To find out more about looking after your battery, read our blog post.
Technical Specifications
| | |
| --- | --- |
| Cutting height mm | 20-70 |
| Cutting width cm | 37 |
| Height cm | 110 |
| Width cm | 43 |
| Length with grass catcher box cm | 122 |
| Weight kg | 16 |
| Grass catcher box capacity l | 40 |
| Vibration value ahw m/s² | 1.6 |
| Uncertainty factor K m/s² | 0.8 |
| Guaranteed sound power level LWAd dB(A) | 90 |
| Uncertainty factor KpA dB(A) | 2 |
| Mulching function | Yes. can be retrofitted |
| Start | Electric start |
| Blade | High-lift blades |
| Housing material | Polymer PP |
| Drive | No |
1927
Andreas Stihl founds an engineering office in Stuttgart and develops his own chainsaw.
1928
STIHL becomes a brand. The name represents the ceaseless quest of the engineer and company founder Andreas Stihl to ease the heavy labour of forestry work with his inventions.
1930
STIHL presents his portable petrol-powered chainsaw at the Leipzig trade fair – it is well received and orders flow in from across Europe.