The MSA 120 C-B is a lightweight, cordless chainsaw that is perfect for cutting firewood and tidying-up around the garden.
Quiet and easy to use, it is packed with useful features like the Quick Chain Tensioning so you can tighten the chain without tools, the Ematic chain lubrication system which uses up to 50% less chain oil and the QuickStop Super chain brake.
It has outstanding cutting performance and low vibrations, as well as an impressive 35 minutes of battery life, which will give you around 100 cuts in 10 x 10cm timber. You'll have the log store stocked in no time
Features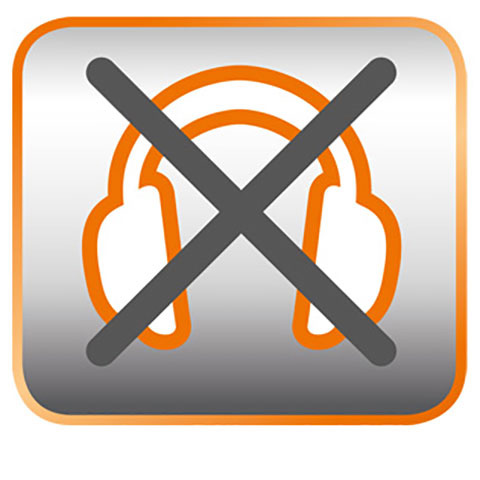 Quiet technology
The STIHL Compact Cordless System tools are so quiet you don't even need to wear ear protection.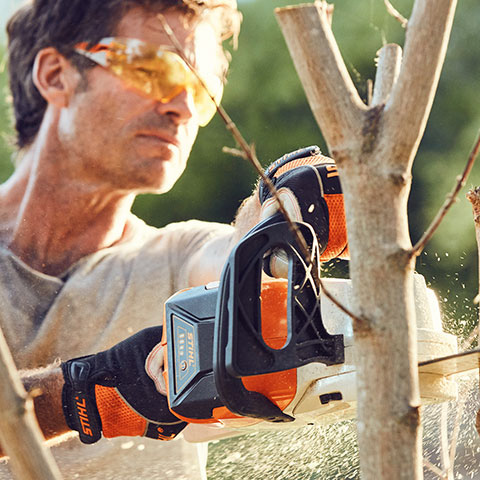 Designed for comfort
The ergonomically shaped front handle and soft rear control handle allow for a comfortable and stable grip in all working positions.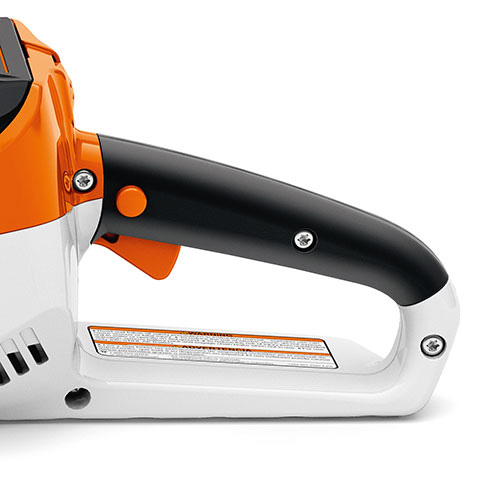 Comfortable control handle
The soft black rear control handle ensures a safe and secure grip when in use. The control lever features a interlock system for added safety.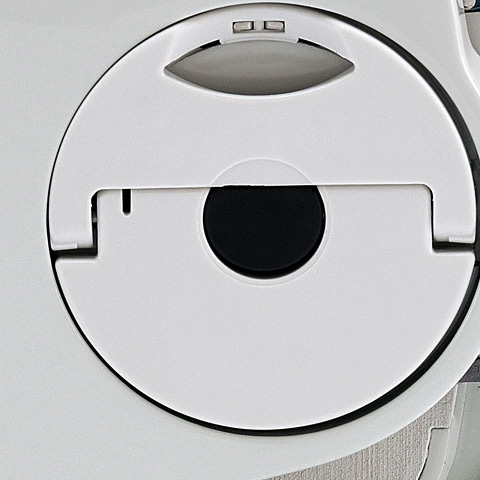 STIHL Quick Chain Tensioning (B)
The STIHL Quick Chain Tensioning system (B) makes it very easy to tension the chain. Simply release the sprocket cover and turn the thumb wheel to set the optimum tension. No tools needed.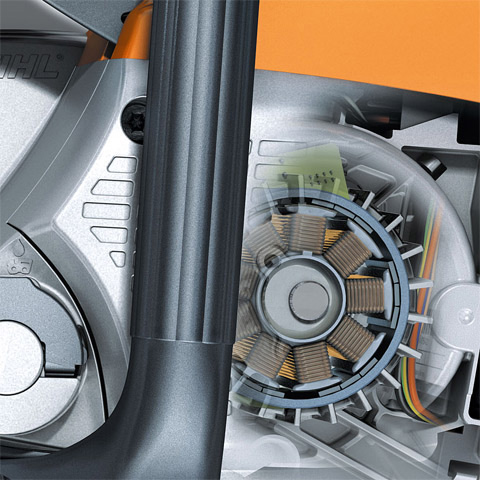 STIHL Electric Motor (EC)
The STIHL electric motor (EC) is extremely energy efficient, lightweight and compact. It runs quietly, generates very low vibrations and does not require servicing.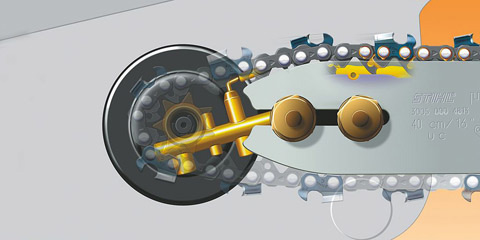 Ematic chain lubrication system
The STIHL Ematic chain lubrication system provides maximum lubrication, longer wear and less oil consumption that conventional methods of chain lubrication. The oil consumption can therefore be reduced by up to 50%.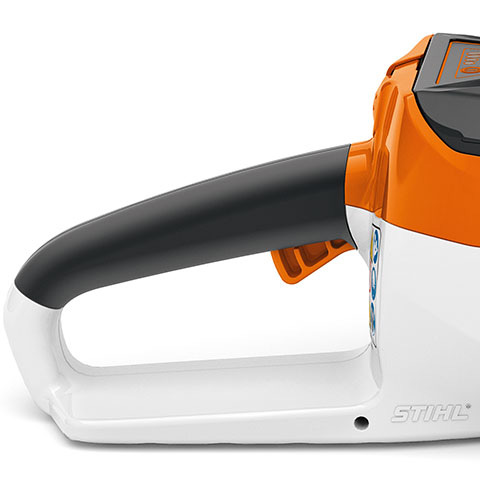 QuickStop Super Chain brake (Q)
Additional braking system for increased safety, designed by STIHL. The chain does not only stop if kickback is sufficiently strong or during active actuation of the front hand guard, but also when you release the rear handle. Chain over run is stopped within seconds, helping to protect the user.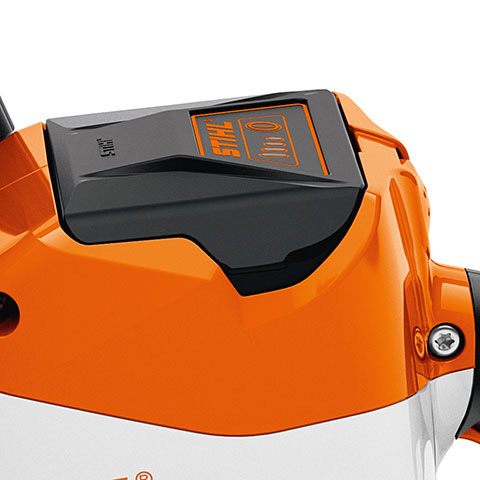 Neutral battery position
The battery can be inserted into the tool in 2 stages. In the first neutral position, the battery is secured in the tool but does not connect with the contacts, allowing for safe transport. In the second operating position, the battery is completely inserted allowing for full operation of the tool.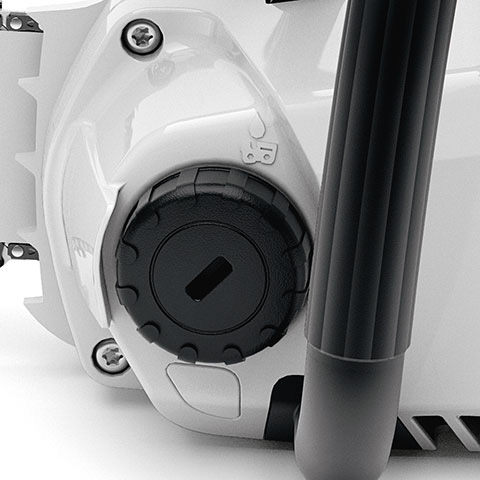 Transparent chain oil tank
The transparent tank allows the chain oil level to be easily checked without having to remove the oil filler cap.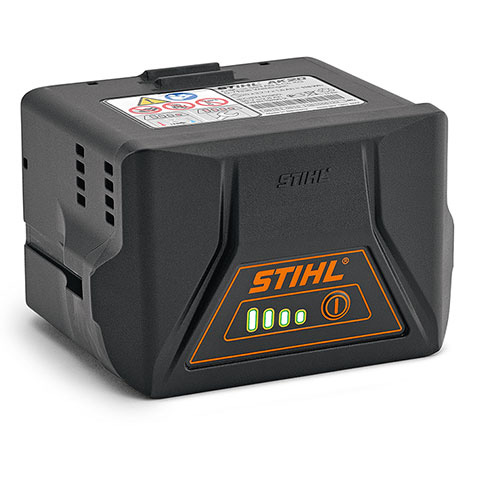 AK 20 battery
36 V Lithium-Ion battery for the AK Cordless System with an impressive 118 Wh capacity. The battery run time differs depending on which tool it is fitted to, see individual models for more information. With charge level indicator (LED). Use in conjunction with the AL 101 battery charger.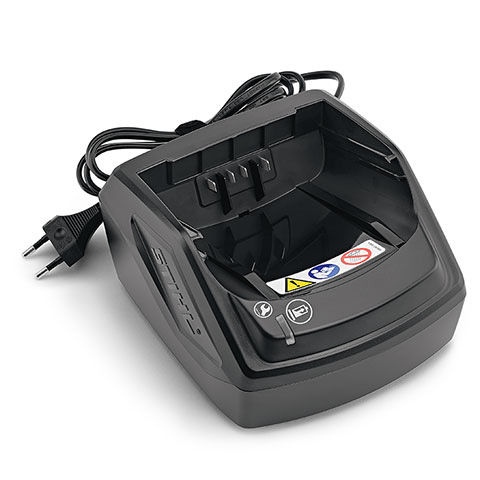 AL 101 charger
Charger for the STIHL AK Cordless System. With operating mode indicator (LED) and cable tie with Velcro tape. The charger can be wall mounted if required.
Technical Specifications
Cordless Technology
Lithium-Ion
STIHL Oilomatic saw chain pitch/type
Picco Micro 3 (PM3)
Recommended battery
AK 20
Run time with AK20 battery at 100% charge min

 

1)
up to 35
Weight kg

 

2)
2.5
Vibration levels left/right m/s²

 

3)
3.4/3.2
Sound power level dB(A)

 

4)
94
Chain gauge
1/4"P
Bar length "
12
Oil tank volume cm3
110
Battery life AK 10 min

 

1)
up to 15
Recommended bar length cm/inch
30cm/12"
1) Battery life times are approximate and may vary depending on application
2) Without battery, with bar and chain
3) K-factor according to DIR 2006/42/EC = 2m/s²
4) K-factor according to DIR 2006/42/EC = 2.5 dB (A)
1927
Andreas Stihl founds an engineering office in Stuttgart and develops his own chainsaw.
1928
STIHL becomes a brand. The name represents the ceaseless quest of the engineer and company founder Andreas Stihl to ease the heavy labour of forestry work with his inventions.
1930
STIHL presents his portable petrol-powered chainsaw at the Leipzig trade fair – it is well received and orders flow in from across Europe.
Popup content