Make trimming your hedges an easy task with our lightweight, cordless HSA 56 hedge trimmer.
The double-edged, diamond ground blades deliver a smart finish on the bushes and hedges in your garden, and the droplet shape on the blade guides twigs and branches into the blades for an even cut. The HSA 56 is part of our AK Cordless System range of tools with interchangeable batteries - the battery in this tool can also be used in other tools in this range including a grass trimmer, blower, lawn mowers and chainsaws.
Run time on recommended AK 10 battery: Up to 40 minutes
Run time on AK 20 battery: Up to 80 minutes
Run time on AK 30 battery: Up to 120 minutes
Features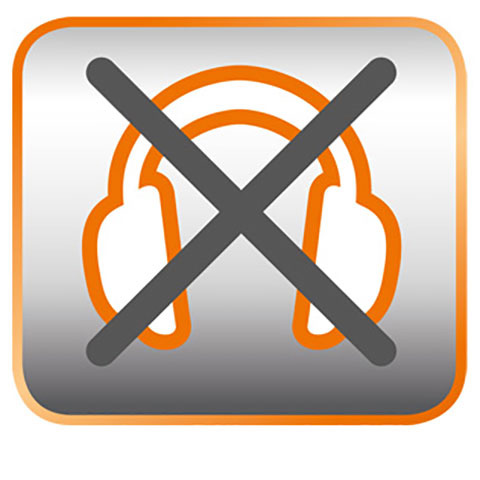 Quiet technology
The STIHL AK Cordless System tools are so quiet you don't even need to wear ear protection.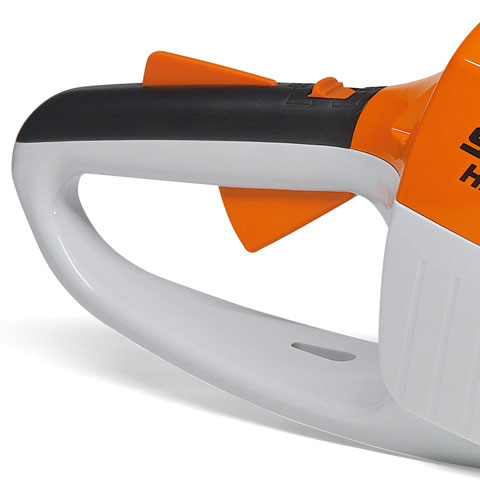 Carrying handle
The HSA 56 can only be operated with two hands so you are always in control. The soft-grip front handle can be operated from all sides so that you can work at exactly the right angle for your hedges.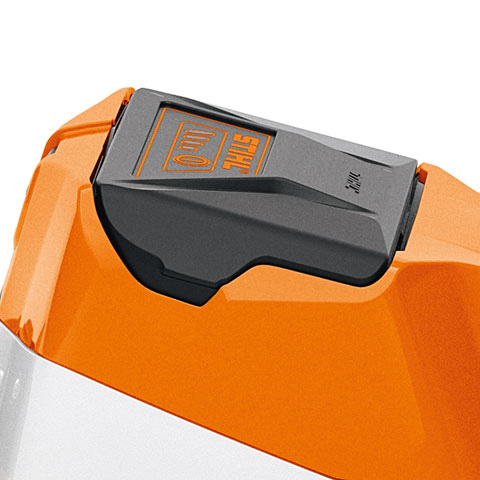 Neutral battery position
There are two positions for the battery - in the first neutral position, the battery is secured in the machine but is not connected to the contacts. This means you can carry the battery around easily without accidentally starting the trimmer. In the second position, the battery is fully pushed in and you can easily start the tool.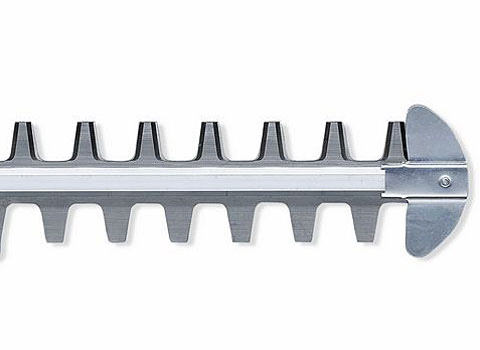 Blade tip protector
The HSA 56 comes with a tip protector fitted as standard, which makes cutting near the ground or along walls easier, and helps to protect the blades from damage.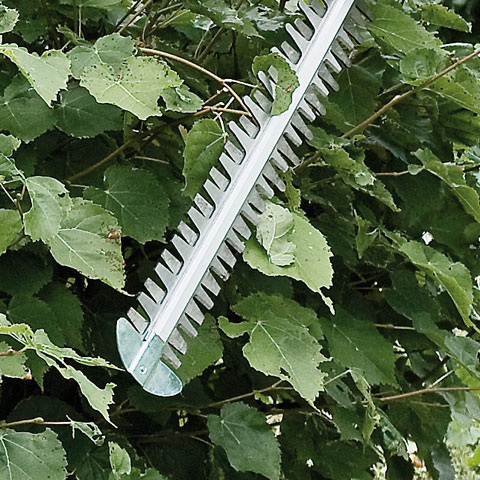 Double sided cutting blades
The blades on the HSA 56 are diamond ground so you can achieve a neat finish on your hedges. The HSA 56 has integrated cut protection which overlaps the working blades, to reduce the risk of the blades making contact with your leg.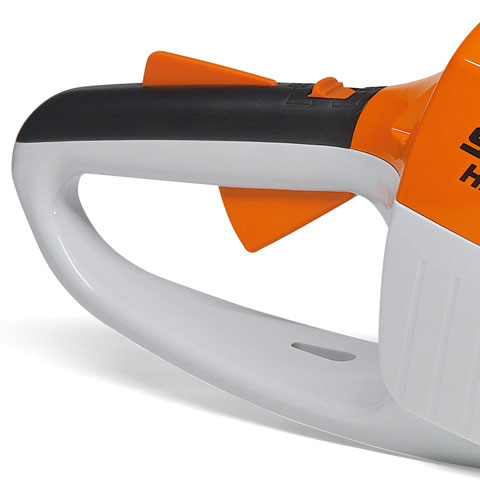 Hanging eyelet
TThe HSA 56 can be easily hung up in the garage or shed using the hanging eyelet.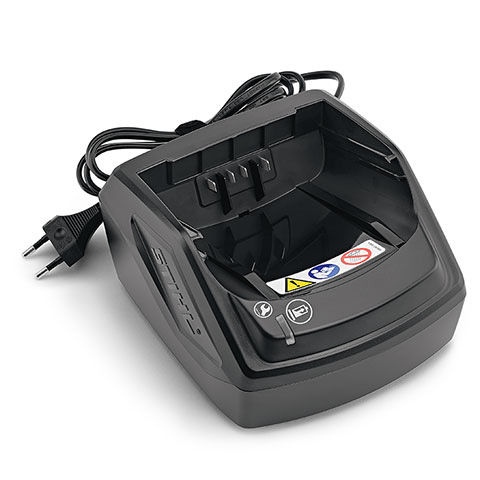 AL 101 charger
Charger for the STIHL AK Cordless System. With operating mode indicator (LED) and cable tie with Velcro tape. The charger can be wall mounted if required.
FAQs
Q
How long does the battery last?
A: The battery will last up to 40 minutes or enough time to trim up to 140m² of hedges. This does depend on what is being cut and how the tool is being used.
Q
How long does it take to charge?
A: To fully charge an AK 10 battery it takes 80 minutes, or to charge it up to 80%, it takes 55 minutes.
Q
What size garden will it maintain?
A: The HSA 56 is great for medium to large gardens.
Q
What battery does it use?
A: The tool is powered by an interchangeable 36V Lithium-Ion battery.
Q
Are the batteries interchangeable?
A: Yes, all of the tools in the AK Cordless System use the same style of battery. There are three different batteries in the range, which all have different capacities. For the HSA 56, we recommend the smaller capacity AK 10 battery as it is lighter and means the tool is perfectly balanced, but you can use the AK 20 and AK 30 battery in this tool.
Q
How long is the blade on the HSA 56?
A: The blade is 45cm long.
Q
What should I wear when using this hedge trimmer?
A: We recommend that you wear snug-fitting clothes, goggles, gloves and sturdy boots or shoes, and tie back long hair.
Q
What size branches can I cut with the HSA 56?
A: You can cut branches up to 16mm in diameter.
Q
Does the hedge trimmer come with a blade cover?
A: Yes, your hedge trimmer comes with a scabbard to cover the blades during transport or storage. On new machines, the scabbard will be quite tight so you may need to use some force to remove it for the first few times. Just hold the scabbard about half way down and pull it away from you so your hands or body cannot come into contact with the blades.
Tips
#1
Using the HSA 56
You will get a straighter cut on your hedges, if you move the hedge trimmer in an upwards motion when trimming. The HSA 56 has a handy tip protector at the end of the blades - this means you can trim closer to the ground without damaging the blades.
#2
Cleaning your HSA 56
When you have finished using the hedge trimmer, remove the battery. We suggest spraying a little resin solvent, like STIHL Superclean, onto the blades to remove sap or resin, protect them from corrosion and stop them getting stuck together.
#3
Looking after your battery
Don't use a damp or wet battery in your HSA 56 and avoid using them in extreme temperatures (very hot or very cold). To find out more about looking after your battery, read our blog post.
#4
Storing your HSA 56
Store your HSA 56 in a clean and dry area and keep out of the reach of children at all times.
#5
Check for wildlife
Don't forget to check your work area for wildlife before starting to use your tool. In particular, you should check for nesting birds before trimming hedges, as well as checking for other small animals such as hedgehogs before trimming long grass.
Technical Specifications
Rated voltage V
36
Run time with AK 10 battery min

 

1)
up to 40
Run time with AK 20 battery min

 

2)
up to 80
Weight kg

 

3)
2.9
Cutting length cm
45
Total length cm
94
Tooth spacing mm
30
Sound power level dB(A)

 

4)
91
Sound pressure level dB(A)

 

5)
80
Vibration value, left m/s2

 

6)
2.7
Vibration value, right m/s2

 

6)
1.2
Blade length
450mm/18"
1927
Andreas Stihl founds an engineering office in Stuttgart and develops his own chainsaw.
1928
STIHL becomes a brand. The name represents the ceaseless quest of the engineer and company founder Andreas Stihl to ease the heavy labour of forestry work with his inventions.
1930
STIHL presents his portable petrol-powered chainsaw at the Leipzig trade fair – it is well received and orders flow in from across Europe.