The BGE 71 electric garden blower is perfect if you have easy access to a plug socket and want to use your blower often around your garden. There's no need to charge the battery, or fill it with petrol, simply plug it in, switch it on and go.
This lightweight and quiet blower also features a cable strain relief hook to stop accidental damage, and a flat nozzle, which makes it great at clearing away damp leaves or debris.
Features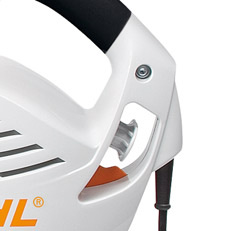 Built-in cable strain relief
The cable strain relief hook on the BGE 71 prevents accidental damage to the cable.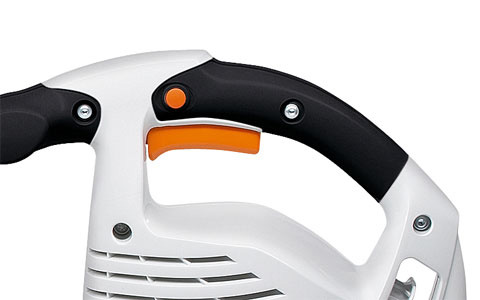 Easy-to-use control handle
All of the operator controls are on the handle of the BGE 71 so you can comfortably use it single-handedly and are always in complete control.
FAQs
Q
How long is the cable on the BGE 71?
A: The cable on the BGE 71 is 10 metres long
Q
What size garden can I use this in?
A: The BGE 71 is ideal for small to medium-sized gardens.
Q
What should I wear when using this blower?
A: We recommend that you tie back long hair, and wear snug-fitting clothes, goggles, gloves, sturdy boots or shoes and ear defenders or ear plugs.
Tips
#1
Cleaning your BGE 71
When you have finished using the blower, unplug it and clean using a damp cloth or soft brush.
#2
Clearing leaves with your BGE 71
Instead of just blowing the leaves around the garden, blow them into a corner to keep them contained and make it easier to collect them up.
#3
Cleaning your gutters
Did you know you can also clean your gutters with an BGE 71? The STIHL gutter cleaning kit attaches to the BGE 71 so that you can easily reach and clear blocked gutters.
Technical Specifications
Power output kW
1.1
Weight Pounds

 

1)
6.6
Weight kg

 

1)
3
Sound pressure level dB(A)

 

2)
85
Sound power level dB(A)

 

2)
100
Vibration level right m/s2

 

3)
1
Air velocity m/s

 

4)
66
Air velocity mph

 

4)
148
Maximum air flow cf/min

 

5)
394
Maximum air flow m3/h

 

5)
670
Collection bag volume l
45
1) Without cable 
2) K-factor according to DIR 2006/42/EC = 2.5 dB (A) 
3) K-factor according to DIR 2006/42/EC = 2m / s ² 
4) With flat nozzle in the blowing operation 
5) Without blowing tube and nozzle 
1927
Andreas Stihl founds an engineering office in Stuttgart and develops his own chainsaw.
1928
STIHL becomes a brand. The name represents the ceaseless quest of the engineer and company founder Andreas Stihl to ease the heavy labour of forestry work with his inventions.
1930
STIHL presents his portable petrol-powered chainsaw at the Leipzig trade fair – it is well received and orders flow in from across Europe.