The HS 45 petrol hedge trimmer is the ideal tool for light maintenance of hedges, shrubs and bushes in your garden.
This neat tool has a 60cm bar with double-sided blades and built-in cut protection. It also features our anti-vibration system, which reduces vibrations at the handle of the machine and makes it much more comfortable to use.
The long-life air filter system means you can leave it longer between cleaning and gives better protection of the engine. The manual fuel pump means that the hedge trimmer is easier to start too, with less pulls of the starter cord needed to get the HS 45 going. It features our 2-MIX engine, which is powerful but economical too.
The HS 45 is our best-selling hedge trimmer as it's durable, reliable and a great option for use in your garden.
Features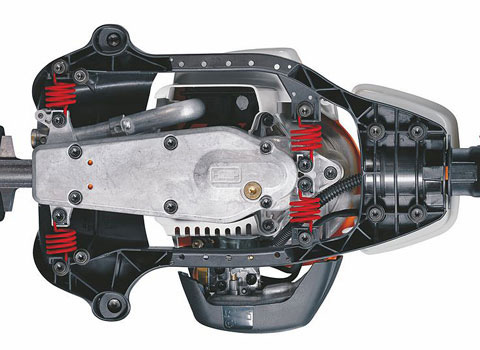 Anti-vibration system
The HS 45 features an innovative ant-vibration system that significantly reduces vibrations at the handle to make it more comfortable to use.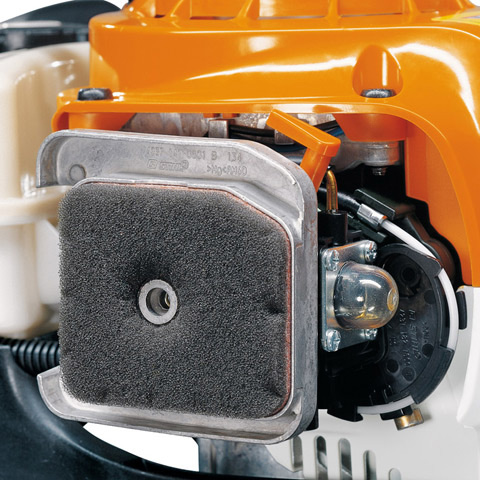 Long-life air filter system
The long-life air filter gives better protection to the engine of your HS 45.
Manual fuel pump
The manual fuel pump can be used to deliver fuel at the touch of a button. This means that you need less pulls of the starter cord even after long breaks.
FAQs
Q
How long is the bar on the HS 45?
The bar is 60cm long.
Q
What should I wear when using this hedge trimmer?
We recommend that you wear snug-fitting clothes, goggles, gloves, ear defenders and sturdy boots or shoes, and tie back long hair.
Q
What is the spacing between the cutting teeth?
The tooth spacing on the HS 45 is 30mm.
Tips
#1
Using the HS 45
You will get a straighter cut on your hedges if you move the hedge trimmer in an upwards motion when trimming.
#2
Cleaning your HS 45
When you have finished using the hedge trimmer, stop the machine, then spray a little resin solvent, like STIHL Superclean, onto the blades to remove sap or resin, protect them from corrosion and stop them getting stuck together.
#3
Storing your HS 45
Store your HS 45 in a clean and dry area and keep out of the reach of children at all times. Don't leave your machine with unused fuel in it for long periods of time.
Technical Specifications
Displacement cm3
27.2
Displacement cm³
27.2
Performance kW
0.75
Power output

 

kW

/

bhp

0.75

/

1.0

Performance bhp
1
Tooth spacing mm
30
Blade length
600mm/24"
Blade length cm
60
Stroke rate 1/min
3.800
Stroke rate rpm
3.800
Weight kg

 

1)
5.0
Weight kg

 

1)
5
Sound pressure level dB(A)

 

2)
97
Sound pressure level dB(A)

 

3)
98
Sound power level dB(A)

 

2)
107
Sound power level dB(A)

 

3)
105
Vibration levels right m/s²

 

4)
9
Vibration levels left m/s²

 

4)
10
Total length cm
110
Total length cm
110
Tooth spacing mm
30
Tank volume l
0.22
EPA Certified fuel consumption l/h
0.509
1) Without fuel, complete
2) K-factor according to DIR 2006/42/EC = 2.5 dB (A)
3) Power factor according to DIR2006/42/EC=2.5(dB(A))
4) (K) factor according to Dir. 2006/42/EC = 2m/s²
1927
Andreas Stihl founds an engineering office in Stuttgart and develops his own chainsaw.
1928
STIHL becomes a brand. The name represents the ceaseless quest of the engineer and company founder Andreas Stihl to ease the heavy labour of forestry work with his inventions.
1930
STIHL presents his portable petrol-powered chainsaw at the Leipzig trade fair – it is well received and orders flow in from across Europe.