The FSA 86 R is a powerful cordless grass trimmer for trimming around obstacles and for mowing larger areas of lawn.
The 350mm cutting diameter means you can get the job done in no time, whilst the variable speed gives you precise control whenever you need it, so you can slow it down for more intricate jobs, such as mowing in smaller spaces and around bushes and trees.
The FSA 86 R is so quiet to use, you won't even need to wear ear defenders either so you certainly won't annoy the neighbours.
It's also very simple to extend the mowing line from the AutoCut C 6-2 mowing head - just bump it on the ground and the mowing line automatically extends. You can also fit the PolyCut 6-2 mowing head to this grass trimmer, which uses polymer blades instead of mowing line.
The FSA 86 R is part of our AP System of battery-powered tools, with interchangeable batteries - it is not compatible with AK System of cordless tools and batteries.
Run time on recommended AP 200 battery & AutoCut mowing head: Up to 35 minutes

Run time on AP 300 battery & AutoCut mowing head: Up to 42 minutes
Features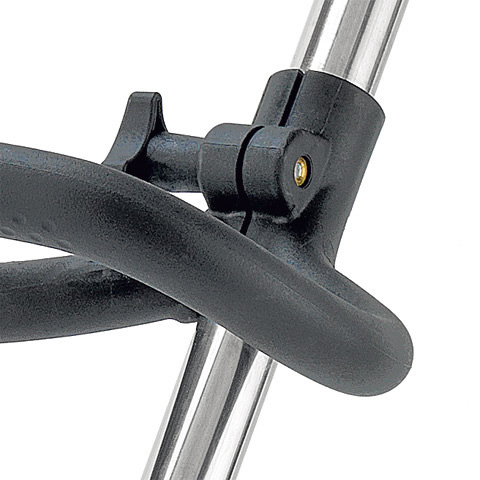 Ergonomic operating handle
The operating handle is easy to use and features a locking lever, which means the tool can't be started accidentally.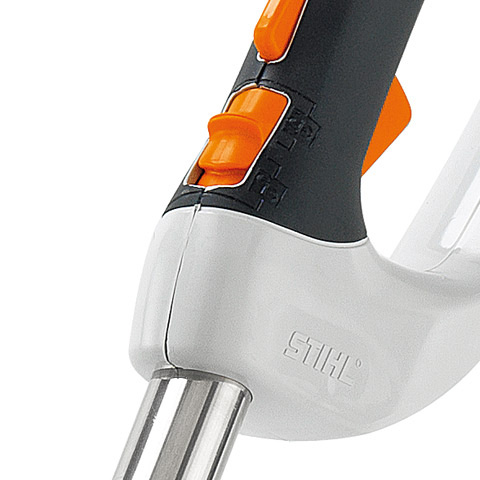 Safety locking button
This safety feature means that you can't accidentally start the machine even when the battery has been inserted.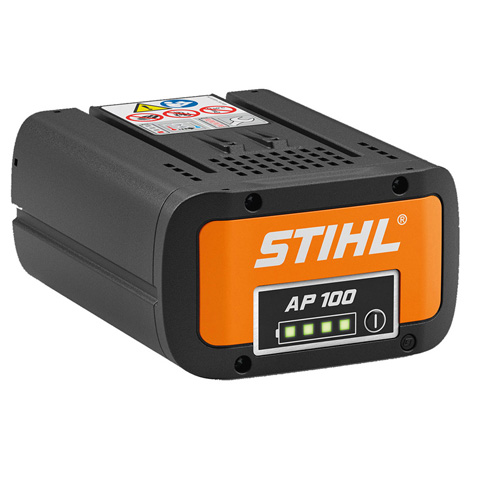 Charge level indicator on the battery
Quickly check how much charge you have left on the battery, with the LED display. Just press the button to see if you need to pop the battery on charge.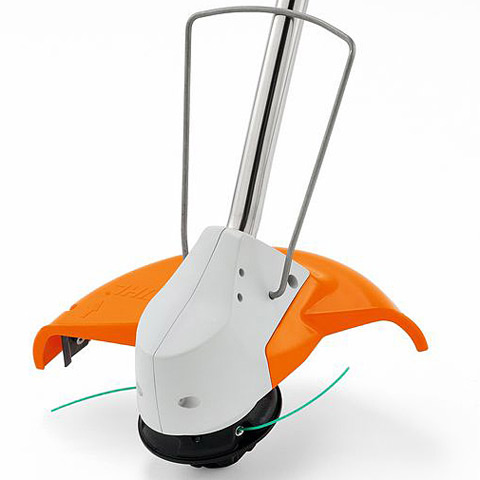 Spacer bracket
The spacer bracket is great for mowing along walls and around trees and bushes.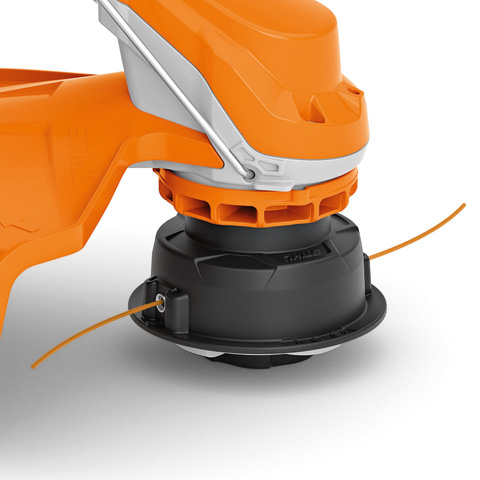 Interchangeable cutting tools
It's quick and easy to change the cutting attachment on the FSA 86 R without tools. It comes as standard with the AutoCut C 6-2 mowing head, but is also compatible with the PolyCut 6-2 or DuroCut 5-2.
FAQs
Q
What type of cutting attachment does this use?
A: The FSA 86 R uses an AutoCut C 4-2 mowing head, with 2.0mm mowing line.
Q
How long does the battery last?
A: The battery will last up to 36 minutes using the recommended AP 200 battery, depending on what you are trimming.
Q
How long does it take to charge the battery?
A: To fully charge the recommended AP 200 battery, using the AL 301 charger, it takes 55 minutes, or to charge it up to 80%, it takes 40 minutes.
Q
What size garden will it maintain?
A: The FSA 86 R is perfect for larger gardens.
Q
What battery does it use?
A: The tool is powered by a 36V Lithium-Ion battery.
Q
Are the batteries interchangeable?
A: Yes, they are interchangeable with other tools in the AP System range that use the AP batteries. They are not interchangeable with the AK System tools which use the AK batteries.
Q
How long is the FSA 86 R?
A: It is 165cm long without the cutting tool.
Tips
#1
Cleaning your FSA 86 R
When you have finished using the trimmer, remove the battery and clean using a damp cloth or soft brush.
#2
Storing your FSA 86 R
Store your FSA 86 R in a clean and dry area and keep out of the reach of children at all times. We recommend that you store any batteries with around 40%-60% charge (2 green LEDs), ideally within a temperature range of 0 to 50 degrees centigrade.

#3Make the most of your mowing line To get the most of your mowing line, simply pop it in a bucket of water for 12-24 hours before using it to make it more flexible and less likely to break.

#4Check for wildlife
Don't forget to check your work area for wildlife before starting to use your tool. In particular, you should check for nesting birds before trimming hedges, as well as checking for other small animals such as hedgehogs before trimming long grass.
Technical Specifications
Technical data
Value
Vibration value, left, with line head m/s2

 

1)
3.7
Vibration value, right, with line head m/s2

 

1)
2
Sound pressure level dB(A)

 

2)
77
Sound power level dB(A)

 

2)
91
Sound power level dB(A)

 

3)
94
Sound pressure level dB(A)

 

3)
81
Weight without battery kg

 

4)
3.2
Cordless technology
AP System
Rated voltage V
36
Standard cutting tool
AutoCut C 6-2
Weight kg
3.2
Total length cm

 

5)
172
Cutting diameter mm
350
Cutting tool
AutoCut C6-2
Recommended battery
AP 200
Run time with AP 200 min

 

6)
up to 30
Run time with AP 300 min

 

6)
up to 36
Run time with AP 300 S min

 

7)
up to 45
1) K-factor according to DIR 2006/42/EC = 2m / s ²
2) K-factor according to DIR 2006/42/EC = 2.5 dB (A)
3) K-Wert nach RL 2006/42/EG = 2,0 dB(A)
4) Without battery and charger
5) Without cutting attachment
6) Run times may vary depending on the application
7) Battery life times are approximate and may vary depending on application
1927
Andreas Stihl founds an engineering office in Stuttgart and develops his own chainsaw.
1928
STIHL becomes a brand. The name represents the ceaseless quest of the engineer and company founder Andreas Stihl to ease the heavy labour of forestry work with his inventions.
1930
STIHL presents his portable petrol-powered chainsaw at the Leipzig trade fair – it is well received and orders flow in from across Europe.