The RMA 443 TC is a powerful cordless lawn mower with one speed drive, that makes mowing larger areas of lawn almost effortless!
It's simple to use too with a height adjustable handlebar that can be adjusted to suit your height, and an eco mode that adapts the power and speed of the machine to perfectly suit the mowing conditions, meaning that you can make the most of your battery life.
The mono-comfort handlebar and easy opening grass catcher box make emptying the grass clippings a breeze too - just unclip the back of the box to empty the clippings in one quick movement.
The RMA 443 TC is part of our PRO Cordless range of tools and uses AP-series interchangeable batteries - it is not compatible with the AK-series batteries in the COMPACT Cordless System.
Area covered with recommended AP 200 battery: Up to 360m²
Area covered with AP 300 battery: Up to 440m²
Features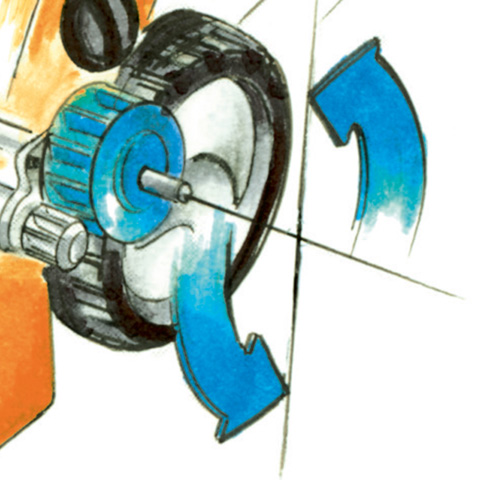 One speed drive
The one-speed drive propels the RMA 443 TC forward making it much easier to mow, especially on larger lawns and slopes. with self-propulsion.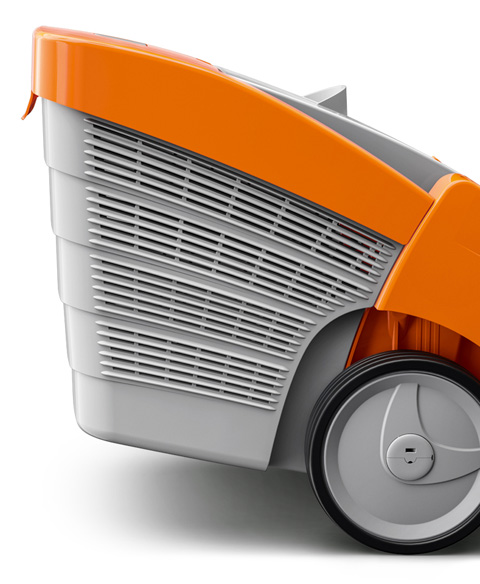 Easy opening grass catcher box
The grass catcher box has a unique design - just clip it open from the back and drop it all straight into a garden waste bin or compost heap.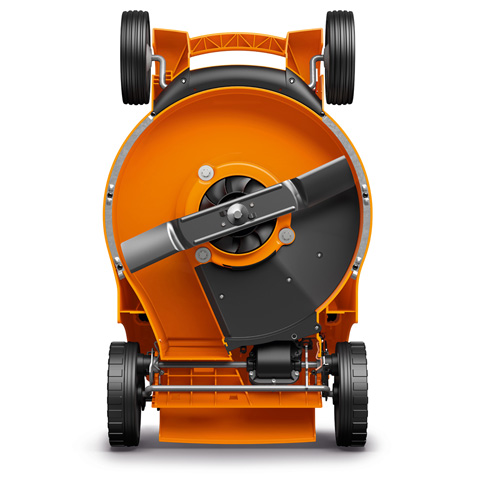 Flow-optimised blades
All STIHL lawn mowers have a flow-optimised blade to give a precise cut on your grass and push it straight into the catcher box. This gives you a neat finish, but also conserves the battery life.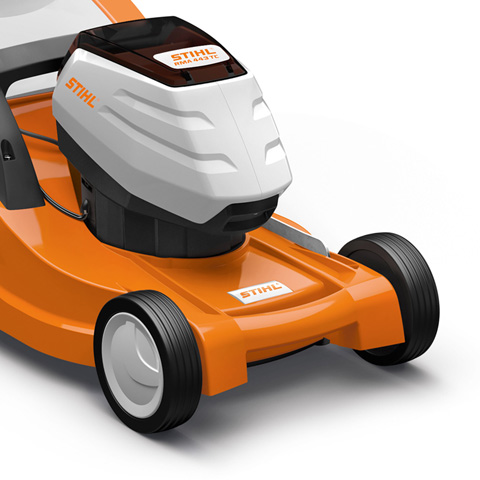 Eco mode
The RMA 443 TC comes with an eco mode button - simply switch it on and the mower will adapt its speed to the mowing conditions to make the most of the battery.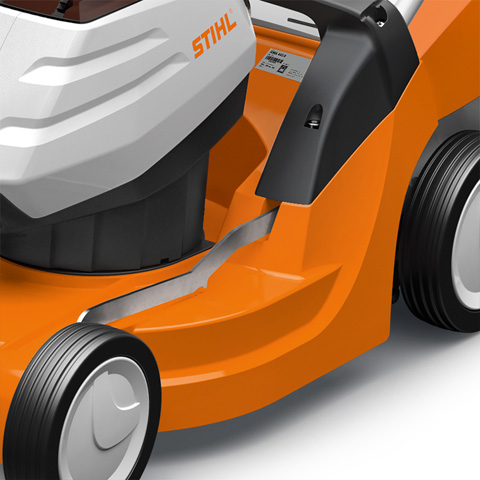 Central cutting-height adjustment
It's easy to adjust the cutting height of the mower in one easy movement with the spring loaded lever. There are six different heights to choose from between 25 and 75mm.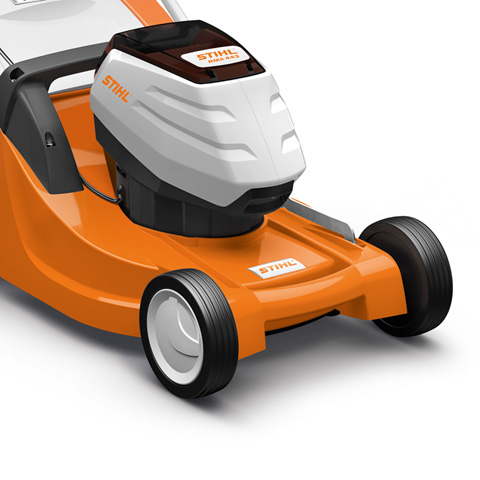 Carrying handles
There are two carrying handles on the RMA 443 TC, so it's easy to move and transport. You can use the handles to easily secure the mower with a strap in a car or van too.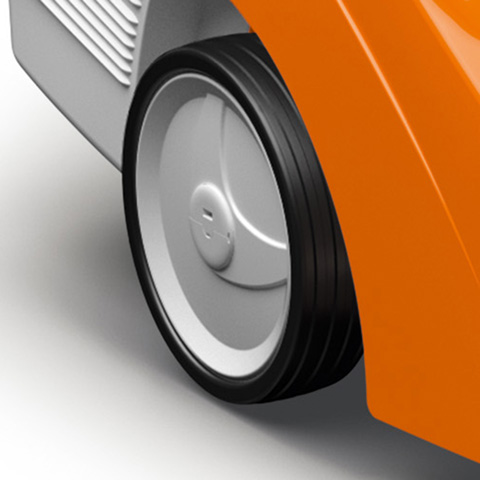 Easy-running wheels
The durable wheels on the RMA 443 TC are specifically designed to make it easy to steer the mower around your lawn.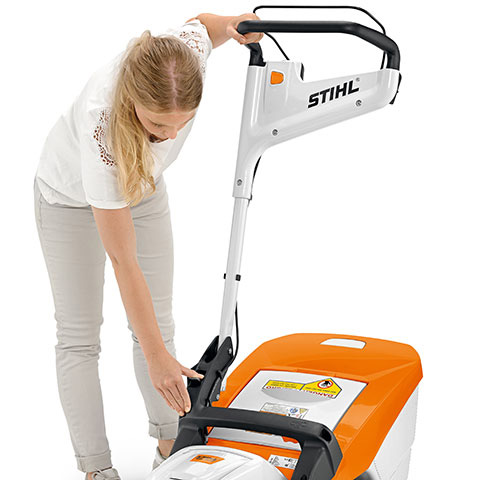 Foldable handlebar
The mono-comfort handlebar has two different height settings and can be easily folded for storage.
FAQs
Q
What size garden will it maintain?
A: With the recommended AP 200 battery, the RMA 443 TC lawn mower will cut approximately 360m² of lawn.
Q
How long does it take to charge?
A: To fully charge an AP 200 battery with an AL 101 charger, it takes 200 minutes, but you can charge it up to 80% in 150 minutes.
Q
What battery does it use?
A: The mower is powered by an interchangeable 36V Lithium-Ion battery.
Q
Are the batteries interchangeable?
A: Yes, they are interchangeable with other tools in the PRO Cordless range that use the AP batteries. They are not interchangeable with the COMPACT Cordless System tools.
Q
What should I wear when using this mower?
A: We recommend that you wear sturdy boots or shoes and snug-fitting clothes.
Q
How big is the grass catcher box?
A: The RMA 443 TC has a 55 litre grass catcher box.
Q
Will the blade need sharpening?
A: Keeping the blade sharp will give you a precise finish on your lawn. If you notice that the tips of the grass look torn after mowing and the cut isn't as neat, the blade may need sharpening. Our approved STIHL dealers can do this for you - find your nearest dealer
Q
What is the cutting width of the RMA 443 TC?
A: The RMA 443 TC has a cutting width of 41cm.
Q
How do I know when the grass box is full?
A: The grass catcher box has a handy grass level indicator on the top - when the white indicator drops down, the box is full and should be emptied.
Q
Can I use this lawn mower on wet grass?
A: Yes, you can - STIHL lawn mowers are designed to deliver a great cut even when it's been raining, thanks to the airflow generated by the blade, the shape of the deck and the vents in the grass catcher box.
Tips
#1
Cleaning your RMA 443 TC
When you have finished using the mower, remove the battery and clean using a damp cloth or soft brush. Always wear gloves and tie back long wear when cleaning or maintaining your mower.
#2
Storing your RMA 443 TC
Store your RMA 443 TC in a clean and dry area away from children at all times. Don't forget you can fold the handle over and put the grass box on top so it takes up less space.
#3
Looking after your battery
Don't use a damp or wet battery in your RMA 443 TC and avoid using them in extreme temperatures (very hot or very cold). Find out more about looking after your battery on our blog.
#4
Using a mulching kit
You can also buy a mulching kit for your RMA 443 TC. This means that instead of collecting the grass clippings in the catcher box, you use the mulching kit to cut the clippings finely and drop them back on to the lawn as a natural fertiliser. Find out more about mulching on the STIHL Blog.
#5
Leaves on the lawn
Did you know you can use your RMA 443 TC to collect and shred leaves on your lawn? Switching off the eco mode means that the blade speed does not drop and so the mower can lift leaves with ease.
Technical Specifications
| | |
| --- | --- |
| Power supply | Battery 36 V |
| Cutting width cm | 41 |
| Cutting height mm | 25-75 |
| Overall weight kg | 27 |
| Product weight kg | 23 |
| Vibration value ahw m/s² | 1.4 |
| Grass catcher bag capacity l | 55 |
| Guaranteed sound power level LWAd dB(A) | 92 |
| Measured workplace LpA dB(A) | 78 |
| Machine length with grass catcher box cm | 138 |
| Device height cm | 108 |
| Device width cm | 49 |
| Housing material | Polymer PP |
1927
Andreas Stihl founds an engineering office in Stuttgart and develops his own chainsaw.
1928
STIHL becomes a brand. The name represents the ceaseless quest of the engineer and company founder Andreas Stihl to ease the heavy labour of forestry work with his inventions.
1930
STIHL presents his portable petrol-powered chainsaw at the Leipzig trade fair – it is well received and orders flow in from across Europe.