Our top-of-the-range electric hedge trimmer, the HSE 81 has a high-powered 650 watt engine making it the ideal tool for cutting hedges with thicker branches.
The five-position handle can be rotated to the most comfortable working position for you quickly and easily.
The transparent hand guard gives you a clear view of the blades so you can see exactly what you're cutting, whilst the longer blade helps you get the job done quickly.
Features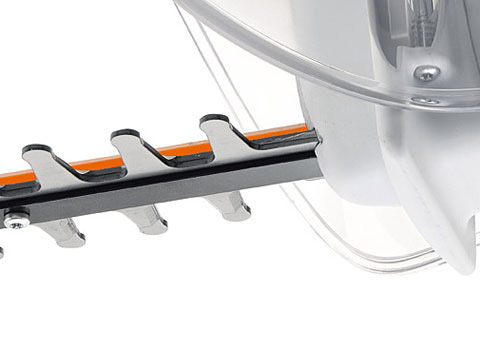 Laser-cut diamond-ground blades
Each blade is laser cut and diamond ground, so that the blades are durable and stay sharper for longer.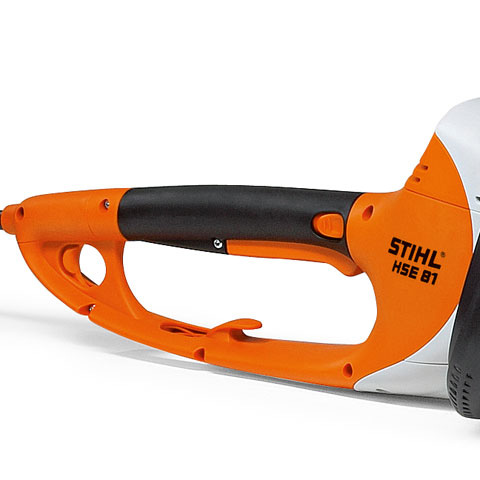 Five-position rotary handle
The flexible design of the five-position rotary handle means that you can select from five settings between 0 and +/- 90 degrees to suit the job at hand.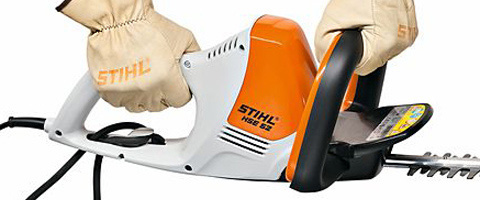 Cable strain relief
The cable strain relief stops the cable from being pulled and accidentally disconnected.
Tip protector
The tip protector on the end of the blades prevent them from being damaged when trimming close to the ground or walls.
FAQs
Q
How long is the blade on the HSE 81?
A: The blade is 70cm long.
Q
What should I wear when using this hedge trimmer?
A: We recommend that you wear snug-fitting clothes, goggles, gloves and sturdy boots or shoes, and tie back long hair.
Q
Will the blades need sharpening?
A: Keeping the blades sharp will give a neat cut on whatever you are trimming. If you notice that the blades are getting jammed easily or the machine is struggling, the blades may need sharpening. Our approved STIHL dealers can do this for you - find your nearest one.
Q
How long is the cable on the HSE 81?
A: The electric cable is 10 metres long.
Q
Does the hedge trimmer come with a blade cover?
A: Yes, your hedge trimmer comes with a scabbard to cover the blades during transport or storage. On new machines, the scabbard will be quite tight so you may need to use some force to remove it for the first few times. Just hold the scabbard about half way down and pull it away from you so your hands or body cannot come into contact with the blades.
Tips
#1
Using your HSE 81
You will get a neat, straight finish on your hedges if you move the trimmer in an upwards motion when trimming. The HSE 81 has a built-in tip protector at the end of the blades so that you can trim closer to the ground without damaging the blades.
#2
Cleaning your HSE 81
After using your HSE 81, unplug the machine, then spray a little resin solvent, like STIHL Superclean, onto the blades to remove sap or resin, protect them from corrosion and stop them getting stuck together.
#3
Storing your HSE 81
Store your HSE 81 electric hedge trimmer in a clean and dry area and keep out of the reach of children at all times.
#4
Check for wildlife
Don't forget to check your work area for wildlife before starting to use your tool. In particular, you should check for nesting birds before trimming hedges, as well as checking for other small animals such as hedgehogs before trimming long grass.
Technical data
Power output W
650
Voltage V
230-240
Weight kg
4.4
Sound pressure level dB(A)

 

1)
86.0
Sound power level dB(A)

 

1)
97.0
Vibration levels left/right m/s²

 

2)
3.1/2.1
Total length cm
133
Stroke rate 1/Min
2.800
Blade length cm
70
Tooth spacing mm
36
1) Power factor according to DIR2006/42/EC=2.5(dB(A))
2) (K) factor according to Dir. 2006/42/EC = 2m/s²
1927
Andreas Stihl founds an engineering office in Stuttgart and develops his own chainsaw.
1928
STIHL becomes a brand. The name represents the ceaseless quest of the engineer and company founder Andreas Stihl to ease the heavy labour of forestry work with his inventions.
1930
STIHL presents his portable petrol-powered chainsaw at the Leipzig trade fair – it is well received and orders flow in from across Europe.